About
Monky Ink Blots is a visual design and storytelling studio founded by the bald and bold mastermind himself Ahmed Sikander. He can often be found listening to true crime documentaries while creating some killer stuff. A Mumbai-based Illustrator, Animator and Musician; some say this juggling of many hats has resulted in the bald spot that covers his entire head. From teaching guitar to working at Ping Digital and then Ting Digital, rhythm and rhyme have always been in the palm of his hairy hands. The dexterity of those fur-filled figures has led to him dabbling in various projects ranging from brand building, storytelling, teaching and even toy making. To ensure his earnings were more than his earrings, Ahmed started designing and selling merchandise such as T-shirts, Mugs, and Calendars during his college days and now has even partnered up with fellow collaborator and cinematographer Anuradha Pathak to create Dotted Blots Studios, a live video and animation studio.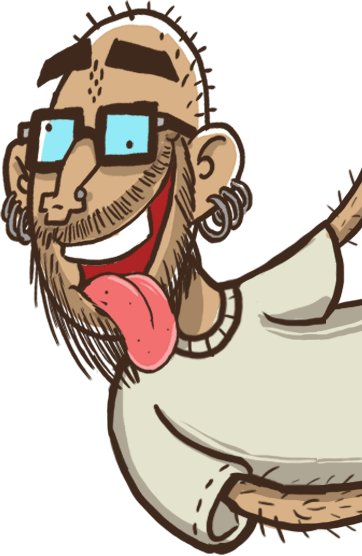 Merch and Passion Projects
You can Email OR WhatsApp to order your merch. Click on the icons below TODAY!
Testimonial
The Last Knife Fighter (American Folk Music Artist and Songwriter)
Working with Ahmed and the Dotted Blots team was truly an enjoyable experience. Not only for the attention to detail, but for the genuine concern they have for getting your message across to your customer or audience. Always quick to respond, you will not find yourself waiting long for a response on whatever project you were working on. Truly, a synergistic experience as they will take your ideas and help them flourish to their full potential for your product or business. I will surely be back again, as it is hard to find a company with such pride and honesty in their work these days.
Ankit Shah (Founder and CEO of I Am In World)
I would like to give a shout out to Ahmed Sikander who has been working on various projects with us since last few years. He has gone above and beyond to match to our expectations and deliver quality work. Has always been punctual about responding, and very easy to talk to. Would highly recommend.
Savio Mascarenhas (Group Art Director Amar Chitra Katha)
I came across Ahmed's work some years ago. His quirky style was something which caught my attention. That was perfect for Tinkle.
And that's what makes him special with his style of art that has become his signature.
And since then I have been seeing his work progress and that amazes me. There is so much that he has been churning out. And each one so different. His versatility came to light with The Last Knife Fighter. I must admit it was outstanding.
My best wishes and success to you Ahmed. SHINE ON!
Sangram Borse (Animation director & Content creator at The Animation Talk)
Ahmed is an enthusiastic artist who is always up for a challenge. He might have a unique style of art but his portfolio is versatile. I was finally able to collaborate with him on a corporate video and his professionalism makes it super easy to work with him and you can always expect the best results with him.
John Farley (Business Owner Best Skate Co.)
I had the pleasure of commissioning Ahmed for his artwork. I initially thought it might be challenging with our time zone difference, me being in the USA and Ahmed in India. However, this turned out not to be the case. Ahmed is very professional, prompt and clearly hard working. I would recommend Ahmed for any project that fits his style of art and for his overall professionalism. I would be happy to work with Ahmed again in the future.

Dr. Mahindra Watsa (Sexpert)
I came across Ahmed Sikander when I was in process of completing my book and was looking for an illustrator. Meeting him indicated a person keen to give his best not only to give suggestions but carefully listening to the suggestions made by us. Although at times it must have been very tiring for him to often redo what would be otherwise very good but was not accepted as it did not match the sensitivity of the sexual matters discussed in the book. His patient efforts ultimately helped us to produce the best as his illustrations have been appreciated, as can be seen in the book, "It's Normal".

Divya Rani (Co-Founder Nommers)
Working with Ahmed has been breezy, as he is patient and picks up the vision of the brand fast.
He adapts quickly to different styles, adding his own quirk to enhance our Brand.
Chetna Chakravarthy (Editor)
I first collaborated with Ahmed in 2013 when I launched my eMagazine for the social sector. Since then if I need an illustrator he is my first call.
Ahmed creates awesome illustrations that are as per the brief and then some more. He takes an idea and turns them into fun visuals. He always has useful recommendations and is willing to work around the piece to create it as close to your imagination as possible.
Even today as an Alternative Healing Practitioner, when I need a quirky way to depict a serious issue, Ahmed is the one I rely on.
Mark Normand (American Stand Up Comedian)
This guy is good! Great stuff. Talented Queef. I'm gay

Skinny Vinny (Influencer/Media Personality)
Ahmed was a pleasure to work with. Very talented and his turn-around rate impressed me!